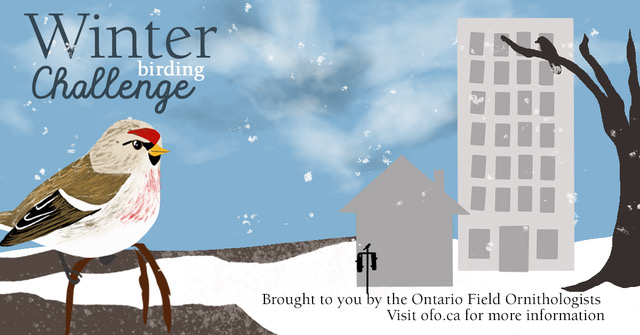 Welcome to OFO's Winter Birding Challenge!
After the success of our very first Birding at Home Challenge this past spring, OFO is excited to announce a new challenge, the Winter Birding Challenge, running from December 1st to February 28! Get outside to enjoy the winter; find some great birds; contribute to community science through eBird; and have a chance to win some great prizes!
The Winter Birding Challenge will focus on birding your 5MR (5 mile radius) of your home. How many different species can you find this winter within your radius? You can help reduce your ecological footprint by birding close to home and you will find some new and fun places to bird.
To find out more go to Events/Winter Birding Challenge or register here
View the results to date on the Results page under Events/Winter Birding Challenge Results.
Recent Photos
There are new photos of Northern Pintail, American Coot, Barred Owl, Tundra Swan, Yellow-headed Blackbird, Bald Eagle, Ovenbird, Savannah Sparrow, Snow Bunting and Lapland Longspur in the current gallery.
There are new photos of American Coot, Barred Owl, Tundra Swan, American Black Duck, Yellow-headed Blackbird, Lapland Longspur, Savannah Sparrow and Spotted Towhee in the checklist gallery.
Ontario Field Ornithologists © 1984. All photographs on the site © the photographer.