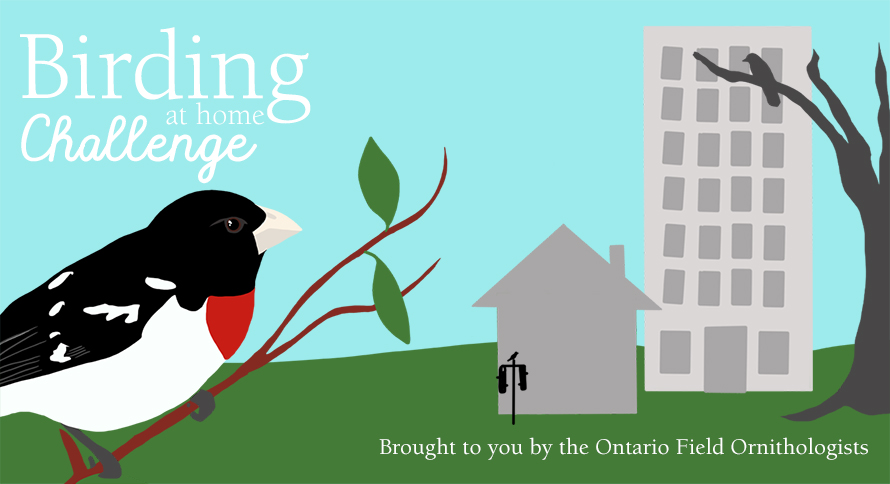 OFO is excited to announce OFO's Birding at Home Challenge!
This fun initiative will give you the opportunity to bird while doing your part by staying home during these extraordinary times. Birders of Ontario -- we want to help you discover the rewards of birding from your yard, balcony or even your window!
To find out more and to register, go to Events, Birding at Home Challenge.
COVID-19 Updates
June Field Trips and Convention Cancelled
Sadly, our province is still in the midst of the COVID-19 pandemic and this has necessitated further cancellations.
Since the situation continues to be uncertain, the OFO Board has decided to cancel all June field trips. We have also made the difficult decision to cancel this year's convention, which was to take place September 25-27th in Peterborough. It is unlikely that a gathering of 250 people will be allowed then.
What we are doing instead
Our June workshops will be going online, so you can still enjoy learning about birds from OFO experts. Details will be announced soon. We will also be highlighting places to safely bird during the summer on our Facebook page and website. If you choose to go birding, please follow federal, provincial and municipal guidelines regarding COVID-19 as restrictions on non-essential travel, physical distancing and party size are still in effect and subject to change.
We are looking at other options for our convention, including online involvement for members. Our convention is also OFO's AGM and this year we will hold it online. We plan to hold the 2021 convention in Leamington and the 2022 convention in Peterborough.
Join OFO / Renew your membership
Explore Ontario's birds with OFO
OFO members have access to over 60 field trips and workshops across Ontario, the annual convention, OFO News, Ontario Birds and more. Your membership supports Ontbirds, the Ontario Rare Bird Committee, the young birders program and conservation efforts. Membership costs only $45 / year and includes up to four people at the same address. Join / renew today!
Donate to OFO
Support Us
Donations are vital to OFO's work. Donations support special programs and enhanced services to our members. This year we are fundraising for the Alan Wormington Memorial Camp in Algonquin Park which provides teens, led by expert volunteers, with an extraordinary opportunity for immersive birding and a week-long nature experience available few other places in Canada. We need your support to continue the program.
Donations over the amount of $10 are tax-deductible. Donate now!
Upcoming Trips
Recent Photos
There are new photos of Sandhill Crane, Mourning Warbler, Upland Sandpiper, Yellow-headed Blackbird, Barnacle Goose, Grasshopper Sparrow, Blue-winged Warbler, Cerulean Warbler and Golden-winged Warbler in the current gallery.
There are new photos of Mourning Warbler, Yellow-headed Blackbird, Barnacle Goose, Grasshopper Sparrow, Golden-winged Warbler, Cerulean Warbler, Blue-winged Warbler, Red-headed Woodpecker, Indigo Bunting, Prairie Warbler, Warbling Vireo and Cliff Swallow in the checklist gallery.
Ontario Field Ornithologists © 1984. All photographs on the site © the photographer.