Birdinghotspots.org; an online directory of Ontario birding hotspots
OFO has partnered with birdinghotspots.org to create the most comprehensive directory of Ontario birding hotspots ever created. The website combines data from eBird with contributions from birders – like you – to put all the information you need about Ontario birding hotspots in one easy to access place.
Check it out!
Head to birdinghotspots.org/ca/ontario. From there, you can explore Ontario hotspots in a list, search for hotspots by name, or click on the map to narrow your search by geographic area.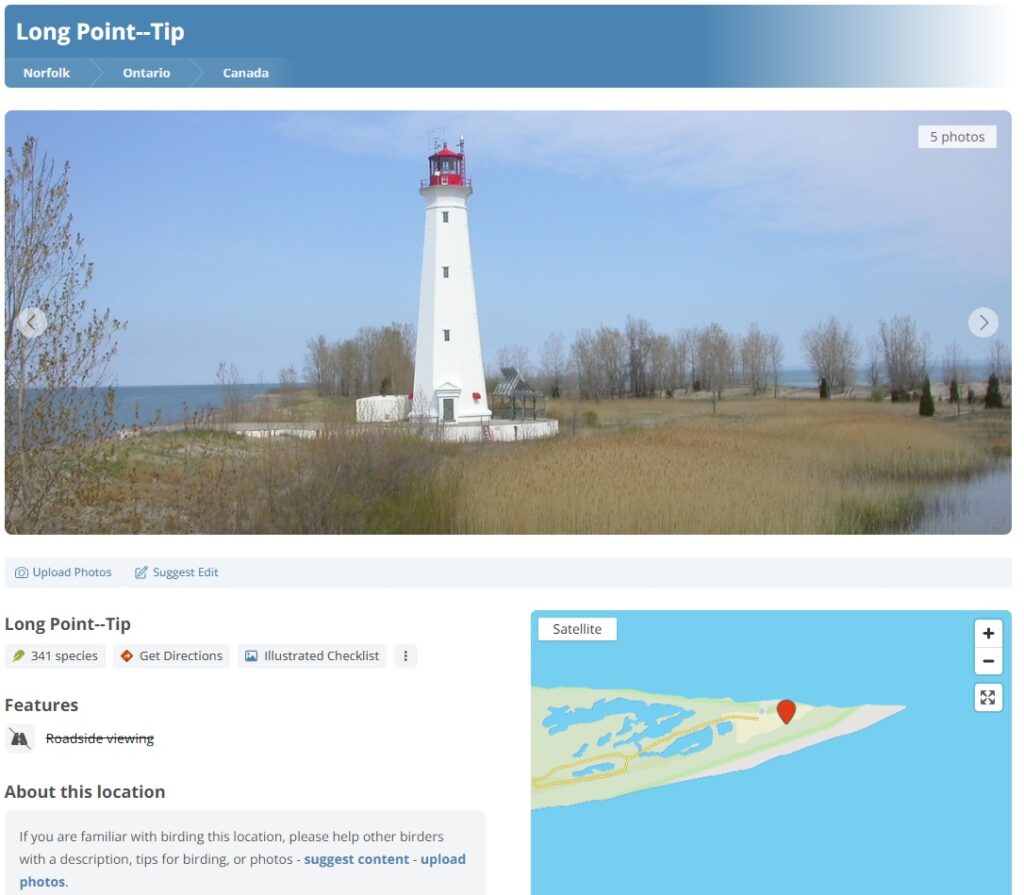 Help grow the directory
Notice a hotspot that's missing or in the wrong place? You can email us at hotspots@ofo.ca
Contributors – photos and text needed!
Do you have photos of Ontario hotspots? You can contribute photos by clicking the "upload photos" button on any hotspot page. Images showing maps, important signage, and access points are particularly useful.

Do you know how to access a hotspot? Have first-hand experience birding there? Know about the birds of interest at a site or best strategies for birding a hotspot? Contribute written information by clicking the "suggest edit" button on the individual hotspot page.
Regional representatives
We are looking for dedicated volunteers that will become regional representatives for their "county" (county, district, regional municipality, etc.). Regional representatives will take the lead on reviewing information for hotspots and ensuring gaps are filled either by themselves or by recruiting local birders who they know have first-hand knowledge of sites. If you'd like to volunteer as a regional representative, please get in touch at hotspots@ofo.ca
Watch the walkthrough:
---
Tips for Contributors
Some quick tips to keep in mind if you are contributing information (thank you!!):
Keep it simple. Some of the most effective pages are short and to the point! The most important thing is to give people the basic information they need

Start with the "About this Location" section. This is the most critical section and should be filled in first. Afterwards, you can write the other sections, but typically this is the longest and has the most information.

Add website links. If you know of websites with helpful information about a site, please include those either in the body of the next or in the "Notes to Editor". In many cases you can use the text straight from a website (just be sure to acknowledge where it came from).
Example hotspots
Here are some example hotspots that are at or near complete:
Lakefield Sewage Lagoons
Koffler Scientific Reserve at Jokers Hill
Lawson Nature Reserve
St. Joseph Island–St. Joseph Island MBS/Fort St. Joseph NHS
Echo Bay–Viewing Platform
Sault Ste. Marie–Whitefish Island/Sault Locks
Google Streetview
Adding one or more views from Google Streetview is a very effective way to add context for a hotspot. For example, here's the Blenheim Sewage Lagoons page which features a Google Streetview view of the entrance gate.
To add a Streetview View, find it on your webbrowser, then copy the url and paste it into the "Notes to the Editor" when you're adding suggestions and we'll get it added.
Group locations
Group locations are larger hotspots that are composed of multiple "sub locations". For example, Point Pelee National Park is made up of sub locations such as TIlden's Woods Trail and the Sparrow Field. The group location should have the overall information about the site, including overall maps and access information. Some of this information can be set to cascade down to the individual sub locations.

To create a new group: Only editors can create a new group, so if there's one you notice that is missing, please let us know by emailing hotspots@ofo.ca.
[WP]