Gull Watching Guide
By Ron Pittaway and Jean Iron
Updated November 2016. First published in OFO News 18(3):1–7, October 2000. Please Ron and Jean if you have questions.
Gull watching is one of the most popular and challenging aspects of birding. They are the ultimate for many birders. Gulls come in a variety of plumages and are often easy to observe closely, making the challenge of finding rarities exciting. Ontario has some of the best places in the world to discover rare gulls. Twenty‐two species of gulls are recorded in Ontario. This is about 44% of the world's approximately 50 gull species. In this article, we present information on all 22 of them, including the places and times to see each species in southern Ontario.
Identify and age the species in Peter Lorimer's drawing of gulls at Niagara Falls. Answers at end.

Gulls in late fall at Niagara Falls. Drawing: Peter Lorimer
When to See GullsTop
Passionate gull watchers study gulls at all times of the year. However, November and December are the best months to see the most species and highest numbers at hotspots such as the Niagara River. Remember to dress warmly for cold and often windy weather during the best of the gull season.
Where to See GullsTop
Some hotspots are the Niagara River, Van Wagners Beach in Hamilton, Toronto's Waterfront, Tip of Point Pelee, Wheatley Harbour on Lake Erie, Sarnia on Lake Huron, and Sault Ste. Marie near Lake Superior. There are many other excellent gull viewing areas, especially harbours along the Great Lakes, Lake Simcoe, Ottawa River at Deschenes Rapids, and the St. Lawrence River. Dumps and day roosts are excellent everywhere. A few choice hotspots are described below.
Niagara River: The late Peter Grant, author of Gulls (1986), said that the Niagara River was his favourite place in the world to watch gulls. The Niagara River along the Niagara River Parkway, which runs from Niagara‐on‐the‐Lake on Lake Ontario to Fort Erie on Lake Erie, has many great lookouts to observe gulls. The best spot is the overlook at Sir Adam Beck Power Dam just south of the Queenston‐Lewiston Bridge. Other top spots are the Boat Launching Ramp in Queenston north of the bridge accessed off Princess Street, the Whirlpool Rapids Overlook, the gorge below the Falls, the rapids and rocks above the Falls on both sides of the Toronto Hydro Building, the Control Structure and weirs farther above the Falls at Chippawa, and Fort Erie north and south of the Peace Bridge. Niagara is best following strong cold fronts in November and December when over 100,000 gulls feed along the river.
For more information about gulls and the Niagara River see Niagara Birds (2010) by John Black and Kayo Roy.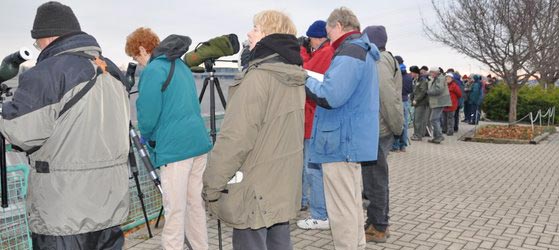 OFO trip to Niagara River at Sir Adam Beck.
Photo: Janice Haines
World Record: A record 14 species of gulls was seen from Ontario along the Niagara River on 25 November 1995. The 14 species were Franklin's Gull, Little Gull, Bonaparte's Gull, Ring‐billed Gull, California Gull, Herring Gull, Thayer's Gull, Iceland Gull, Lesser Black‐backed Gull, Glaucous Gull, Great Black‐backed Gull, Sabine's Gull, Black‐legged Kittiwake and Ross's Gull. The group who saw all 14 species included Willie D' Anna, Dean Di Tommaso, Rob French and Nancy French. This is a world record for the most species of gulls seen in one day. Birders regularly see 9 to 11 species on good days in most years along the Niagara River.
Niagara Fly Past: The evening Fly Past at Niagara‐on‐the‐Lake is a spectacular sight when there are high numbers of Bonaparte's Gulls on the river during the day. In late afternoon, thousands of Bonaparte's fly downriver to roost on Lake Ontario at night. The flight lasts about one hour just before dark. The tight streaming flocks of Bonaparte's look like shorebirds. Among Bonaparte's watch for Little, Black‐headed, Franklin's, Black‐legged Kittiwake and we once saw a pink adult Ross's Gull. Best place to watch the Fly Past is at Navy Hall National Historic Site. It has free parking and benches along the river to watch the gulls. Other laneways leading to the river just north of Navy Hall are also excellent to watch the Fly Past. The flight is best from November to mid January and often extends into February in mild winters. The spring Fly Past is best from 25 March to 15 April to see Little Gulls and the occasional Black‐headed Gull with the Bonaparte's. Adults of all three species are acquiring dark hoods at this time. Note: There is also a late afternoon flight of Bonaparte's Gulls that goes to Lake Erie. For more information on the Niagara River, see Kayo Roy's (2016) guide and map to "The Niagara River" in OFO News 34 (3):1-4 and Gordon Bellerby's (1996) "Niagara Spring Fly Past" in OFO News 14(2):5.
Hamilton: Van Wagners Beach is the best place on Lake Ontario for rare pelagic gulls such as Sabine's Gull and Black‐legged Kittiwake. Watch for Sabine's in September and October and kittiwakes from October to December on moderate to strong east winds. Ring‐billed, Herring and Great Black‐backed are regular along with small numbers of Bonaparte's Gulls.
Toronto Waterfront: The city's waterfront attracts large numbers of gulls in winter. Best spots are Ashbridges Bay Park, Leslie Street Spit, Polson Street, Sunnyside and Humber Bay Park. Watch for Glaucous, Iceland, Thayer's and Lesser Black‐backed Gulls among the thousands of Ring‐billed, Herring and small numbers of Great Black‐backed Gulls. Mew, Heermann's, California, Slaty‐backed Gulls and Ivory Gulls have been seen too.
Point Pelee: The Tip is always worth checking for rare gulls. Go early morning before the beach walkers get there. Among the Bonaparte's, Ring‐billed, Herring and Great Black‐backed, watch for Little, Franklin's, Lesser Black‐backed, Glaucous, Iceland, Thayer's and occasionally Laughing and Sabine's. A first winter Ross's Gull was at the Tip on 17‐18 May 1999.
Wheatley Harbour: The commercial fishing fleet based at Wheatley Harbour on Lake Erie near Point Pelee attracts thousands of gulls. Check the shoreline and offshore by the harbour. Lesser Black‐backed is regular. Watch for all the species listed for Point Pelee. Some rarities frequent both Pelee and Wheatley.
Sarnia: This is the best spot in fall on Lake Huron for Sabine's Gull and Black‐legged Kittiwake on strong northwest winds. Little and Franklin's Gulls are regular. Sarnia harbour had an adult Ross's Gull in February 1992. See the February 1995 article with map by the late Dennis Rupert on "Sarnia Waterworks" in OFO News 13(1):2‐3.
Sault Ste. Marie: An abundance of gulls is showing up at this new gull hotspot. Thayer's and Kumlien's Gulls are regular in fall and winter.
Dumps: Dumps are super places to study gulls at close range. Some dumps allow birders to drive in provided you stay out of the way of machinery and people using the dump. Always check with the gate attendant and say you are watching birds. Keep in mind that dumps are usually muddy or dusty and your chances increase of getting a flat tire. Gulls at dumps are tame and easily viewed with high chances of a rarity. Watch from your car.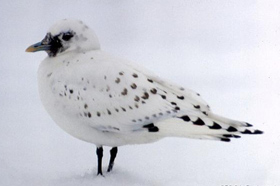 First Year Ivory Gull
Photo: Barry Cherriere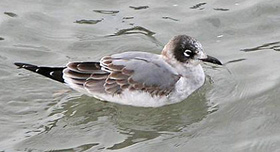 First winter Franklin's Gull
Photo: Marianne Reid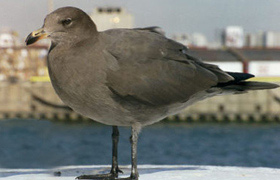 First year Heermann's Gull
Photo: Jean Iron
Annotated Species ListTop
Black‐legged Kittiwake: This North Atlantic saltwater gull is a rare fall visitor to Lake Ontario and the Niagara River. Most kittiwakes seen on Lake Ontario probably get lost by funnelling up the St. Lawrence River into Lake Ontario. A few originate from James Bay where they are very rare in fall. Best spots to see kittiwakes are: (1) Van Wagners Beach in Hamilton on east winds from October to December, (2) the Niagara River in November and December and (3) Point Edward in Sarnia in November. They are very rare on the Ottawa River and Lake Simcoe and casual on inland lakes. Most birds seen are juveniles, but adults are seen occasionally. Caution: At a distance, Ring‐billed Gulls in second winter plumage lacking white mirrors in the black primaries are sometimes misidentified as adult kittiwakes.
Ivory Gull: Casual in Ontario. Breeds in the High Arctic. World breeding population may be only about 12,000 to 14,000 pairs. When it occurs, it usually shows up in southern Ontario in December and January. Almost all birds seen are in juvenile plumage. Ivory Gulls can turn up almost anywhere, and usually only singles are seen in Ontario. They normally do not associate with other gulls. Ivory Gulls are attracted to bright red. Around food they are aggressive to other gulls. Caution: leucistic Ring‐billed Gulls and Bonaparte's Gulls, and distant Iceland Gulls have been misidentified as Ivory Gulls.
Sabine's Gull: Rare fall migrant from late August to December. Most birds seen are in juvenal plumage. The molt to first winter plumage takes place on the wintering grounds. Occasional adults in breeding plumage are seen in late August to mid September, but they are much rarer than juveniles. Accidental spring migrant. Best places to see Sabine's Gull are: (1) Van Wagners Beach in Hamilton on east winds in September and October, (2) the Niagara River in October and November, (3) Point Pelee in September and October on southwest winds with the birds passing from west to east. Caution: distant juvenile kittiwakes are often misidentified as juvenile Sabine's. Look for the kittiwake's neck collar which the Sabine's lacks. Named for its discoverer, Captain Edward Sabine, who collected it in 1818 along the west coast of Greenland.
Bonaparte's Gull: Locally common migrant. Usually common into January on the Niagara River and Lake Erie, but most depart to the Atlantic Coast by mid winter following severe freeze ups. It is a mystery why over 95% of the thousands of Bonaparte's Gulls along the Niagara River in late fall are in adult winter plumage. Where are the first winter birds? They are likely spending their first winter on the Atlantic Coast. Bonaparte's concentrate in large numbers at favoured locations in southern Ontario such as the Niagara River, and locally on Lake Erie, Lake Ontario and Lake Simcoe. Some years, Lake Simcoe is a major summering area for year‐old nonbreeders in first summer plumage. There is a major migration corridor from Georgian Bay and Lake Simcoe through Lake Scugog (Port Perry) and Sturgeon Lake (Lindsay) to Lake Ontario. Along this corridor, Bonaparte's Gulls are common at sewage lagoons in Port Perry, Lindsay, Cannington, Sunderland and Beaverton. Their main food at sewage lagoons is aquatic insects such as Water Boatman and Back Swimmers that surface regularly for air. Smaller numbers of Bonaparte's are regular elsewhere on the Great Lakes, the St. Lawrence River and the Ottawa River. They are very rare on most interior lakes such as in Algonquin Park and Haliburton County. Dark‐winged Variant: a very rare variant occurs in first year birds in which much of the upper wings is dark. A similar variant also occurs in the Little Gull. These dark variants are misidentified as Franklin's Gulls. Bonaparte's Gull was named for Charles Lucien Bonaparte, an ornithologist nephew of Napoleon.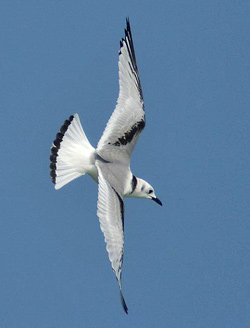 Juvenile Black-legged Kittiwake at Van Wagners Beach in September. Photo: Barry Cherriere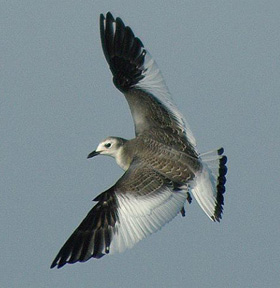 Juvenile Sabine's Gull. Photo: Barry Cherriere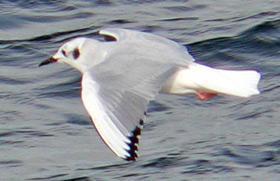 Adult winter Bonaparte's Gull at Barrie in November. Photo: Jean Iron
Black‐headed Gull: The legendary Ludlow Griscom collected the first North American specimen of this Old World species on 30 January 1930 in Newburyport, Massachusetts. In southern Ontario, it is very rare from late August to December and from mid March to May. Casual in summer and mid winter. Usually singles are found with Bonaparte's Gulls. Best spot is Queenston along the Niagara River in November and December. All birds have been in adult winter plumage. Doug McRae once picked out an adult Black‐headed in breeding plumage in a May flock of Bonaparte's at Presqu'ile by its distinctive harsh call. Tip: Watch for Black‐headed and other small gulls wherever large numbers of Bonaparte's gather.
Little Gull: Rare to uncommon migrant in southern Ontario. Very rare in winter. Little Gulls are regular in fall with Bonaparte's Gulls on Lake Erie, Lake Ontario, Lake Simcoe and Niagara River. Numbers increase on the Niagara River from late March to mid April when sightings are guaranteed at the evening Fly Past at Niagara‐on‐the‐Lake. Numbers also gather at Oshawa's Second Marsh from mid April to mid May. Most Little Gulls migrate north with Bonaparte's Gulls to muskegs around James and Hudson Bays to breed. Occasionally breeds in southern Ontario. Scattered birds molting from first summer to second winter plumage are found in summer in southern Ontario. Dark‐winged Variant: A very rare variant having dark upper wings occurs in first year birds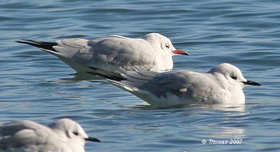 Adult winter Black-headed Gull (back) and Bonaparte's Gull (front), Niagara River, December. Photo: Tom Thomas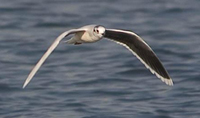 Adult winter Little Gull at Barrie. Photo: Carol Horner
Ross's Gull: Very rare visitor. Recorded at Moosonee near James Bay, Niagara, Port Weller and Point Pelee. Watch for Ross's with Bonaparte's. Adults are often distinctly tinged with pink below. Caution: At a distance, Ross's can look like a Little Gull because its blue gray wing linings often appear very dark. Named in honour of Sir James Clark Ross, British explorer of the Canadian Arctic.
Laughing Gull: Very rare visitor from May to October. Casual in winter. Best spots are the harbours and fishing ports on Lake Erie and less often on Lake Ontario. Usually associates with Ring‐billed Gulls. Also seen at the Niagara River, Ottawa, Hamilton and Lake Simcoe. Caution: Year old Franklin's Gulls in spring in first summer plumage are often misidentified as Laughing Gulls. Franklin's bill is shorter, less deep and less hooked than Laughing's.
Franklin's Gull: Common migrant at the south end of Lake of the Woods in northwestern Ontario. Rare in southern Ontario. Singles associate with Bonaparte's or Ring‐billed Gulls. Watch for it at sewage lagoons. A few Franklin's are regular in spring at Point Pelee and elsewhere in southern Ontario. A few juveniles are seen in August in southern Ontario. Franklin's in first winter plumage are seen occasionally on the Niagara River from September to November, rarely into December. Many birders remember the hurricane‐like storm from the west on 10 ‐11 November 1998 that displaced hundreds of adult Franklin's Gulls into southern Ontario. Some birds lingered to late November. Named for Sir John Franklin, Arctic explorer, who found the species on the Saskatchewan River.
Black‐tailed Gull: Ontario's first Black‐tailed Gull was found by Brandon Holden at Port Burwell on 28 September 2009. An adult, it was subsequently seen at Port Stanley and Port Rowan on Lake Erie by other observers until 14 December 2009.
Mew Gull: Casual visitor to Ontario. Two subspecies have been recorded in Ontario. The western North American subspecies Larus canus brachyrhynchus is more likely to occur. The nominate European subspecies L.c. canus, known as the Common Gull and perhaps a separate species, is regular on the north Atlantic Coast of North America. An adult winter Common Gull was photographed and well documented on the Niagara River in January 2010 and accepted by the OBRC as the first record for Ontario. Caution: Runt female Ring‐billed Gulls retaining considerable juvenal plumage in the fall are an identification pitfall.
Heermann's Gull: Ontario's first Heermann's Gull was discovered by Bruce Massey in Toronto on 14 November 1999. Seen by hundreds, it stayed 10 months in Toronto with several short absences until it was last seen on 16 September 2000 at Polson Street and later flying east over the Leslie Street Spit. Dark plumage in the Heermann's Gull may be related to: (1) thermoregulation, (2) decreased wear of feathers because dark feathers wear less than light feathers under tropical conditions. See Bob Yukich (2000) for his article "Heermann's Gull in Toronto" in Ontario Birds 18(1):3‐7. This is the most easterly record in North America. Named in honour of Adolphus Lewis Heermann, MD, an American who collected birds and eggs in the mid 1800s.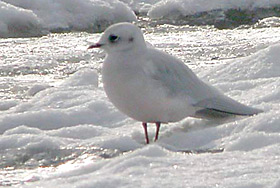 Adult winter Ross's Gull at Niagara Falls in January. Photo: Willie D'Anna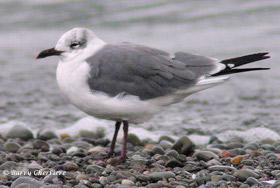 Adult winter Laughing Gull at Van Wagners Beach in Hamilton in September. Photo: Barry Cherriere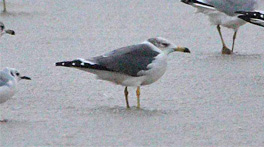 Adult winter Black-tailed Gull at Port Burwell in September. Photo: Brandon Holden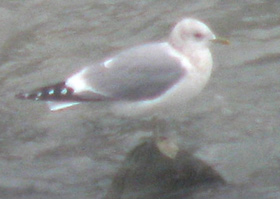 Mew Gull in January near Sir Adam Beck. Photo: Jean Iron
Ring‐billed Gull: The most abundant gull in agricultural and urban areas of southern Ontario. Unlike most gulls, Ring‐billed Gulls frequent school yards and fast food restaurants. In Ontario, this is the species seen following the farmer's plow, or circling high to catch flying ants in summer. They stop feeding in fields and on lawns when the ground freezes in the fall.
California Gull: Very rare visitor from the west. Best place to see a California Gull is the Niagara River where it is now annual in November and December, usually associating with Ring‐billed and Herring Gulls. The majority of California Gulls are in adult winter plumage. There are two subspecies of the California Gull. The southern nominate subspecies Larus californicus californicus breeds in the Great Basin of the United States. The northern subspecies L.c. albertaensis, named after the province, breeds mainly in the Prairie Provinces. The more common nominate subspecies is smaller, smaller‐billed, with a darker mantle than Herring and Ring‐billed Gulls. L.c. albertaensis has a slightly larger bill and paler mantle approaching or matching the shade of Herring and Ring‐billed Gulls. Both subspecies have been reported in Ontario with L.c. albertaensis being the more frequent.
Herring Gull: Breeds throughout Ontario and is the only large gull breeding on the interior lakes of the province. Common year round on Lake Ontario, it is the second most common gull after the Ring‐billed in Ontario. This species is the benchmark by which all other large gulls are identified. Know it cold. The pearl gray mantle shades of North American Herring (Larus argentatus smithsonianus) and Ring‐billed Gulls are virtually identical in colour, making it a good comparison character for finding rare species. Caution: (1) Herring Gulls growing outer primaries in fall show less black in the wingtips leading to misidentifications of Thayer's Gull. (2) Some adult Herring Gulls have Thayer's‐like wingtip patterns. These Thayer's‐like Herring Gulls sometimes can be identified by a combination of characters: mantle colour identical to adjacent Herring Gulls, yellowish to bright yellow bill lacking greenish tones, clear yellow eyes (rare in Thayer's), yellowish orange orbital ring (purplish in Thayer's) and duller pink legs. The Thayer's wingtip pattern has been recorded only in female Herring Gulls.
Herring Gull Subspecies: Check Herring Gulls for European Herring Gull and Vega Herring Gull. Both may eventually be considered full species. A first year European Herring Gull (Larus argentatus argentatus/argenteus) was collected in Ottawa on 11 November 1974 (Gosselin, M. and R. Pittaway. 2002. European Herring Gull in Ontario. Ontario Birds 20(1):3‐6.). This was the first record in Ontario and first specimen for Canada. It is specimen number CMNAV 62001 in the Canadian Museum of Nature. An adult Vega Herring Gull (L. a. vegae) was photographed in Sault Ste Marie, Ontario, on 30 October 2010, and accepted by the OBRC as the first record for Ontario.
Northern Herring Gull: In recent years southern Ontario birders have identified juvenile Herring Gulls thought to be of far northern or Arctic origin. These assumed northern juveniles usually first arrive in early October. Unlike Southern Herring Gulls, they retain full juvenal plumage into December or later. Their molt schedule is similar to other juvenile Arctic gulls such as Thayer's and Glaucous, which usually hold full juvenal plumage well into the winter. Southern Herrings hatch earlier than northern birds and begin molting in summer to first winter plumage, showing dark anchor‐shaped markings on many new scapulars in the fall. Northerns in fall have retained juvenile white‐fringed dark scapulars. Northerns also differ from Southerns by their more grey‐brown coloration. Also the heads of newly arrived Northerns are dark in contrast to Southerns, which are paling in many individuals. In summary, there are significant differences in the appearance of first year birds in fall.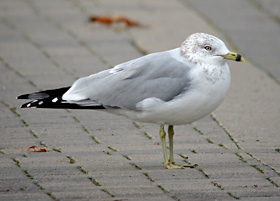 Adult winter Ring-billed Gull in October. Photo: Jean Iron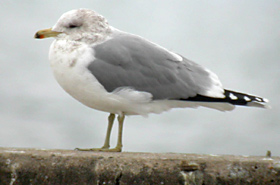 Adult winter California Gull in Toronto in January. Photo: Jean Iron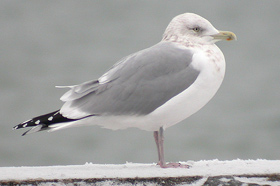 Adult winter Herring Gull in Toronto in January. Photo: Jean Iron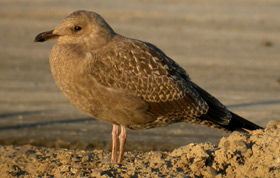 Juvenile Northern Herring Gull
Photo: Jean Iron
Adult winter Lesser Black-backed Gull
Photo: Barry Cherriere
Thayer's Gull: Thayer's is a regular but rare migrant and winter visitor. The first Thayer's often arrive in southern Ontario in late September, several weeks before the first Kumlien's Iceland Gulls. Adult Thayer's and Kumlien's Iceland Gulls in winter usually have pale greenish yellow bills whereas Herring Gulls normally lack a greenish tone. Caution: a large proportion of Iceland Gulls in Ontario are intermediate between Kumlien's and Thayer's Gulls. See Pittaway, R. (1999) on the "Taxonomic History of Thayer's Gull" in Ontario Birds 17(1):2‐2l which you can see here.
Iceland Gull: There are two subspecies and intergrades (intermediates). Kumlien's Iceland Gull (Larus glaucoides kumlieni) is the common subspecies in Canada. It is regular in small numbers in southern Ontario from October to April. Nominate Iceland Gull (L. g. glaucoides), which breeds in Greenland, is casual in Ontario, including an adult specimen from Ottawa in the Canadian Museum of Nature. Intergrades are seen in Ontario. Godfrey (1986) considers Thayer's Gull the dark extreme and nominate Iceland Gull the light extreme of the Iceland Gull cline. See Richard Snell's account # 699 in the Birds of North America.
Lesser Black‐backed Gull: This European species was first recorded in Ontario in 1971. Since then it has increased greatly throughout the province, usually found in association with Herring Gulls. This species is much commoner than the California Gull. All age classes are seen regularly. It is now a rare to uncommon fall and winter visitor. Very rare in summer. The palest of three subspecies Larus fuscus graellsii is the usual subspecies seen in Ontario. However, there are reports, photographs and specimens from Ontario that match the darker intermedius subspecies (as dark as Great Black‐backed Gull) and others that appear to be intergrades (intermediate) between graellsii and intermedius. The darkest nominate subspecies fuscus is not expected to occur in Ontario – it winters mainly in tropical Africa.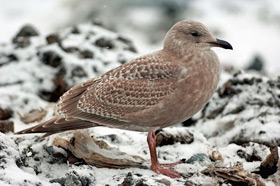 Juvenile Thayer's Gull at Sault Ste. Marie in November. Photo: Kirk Zufelt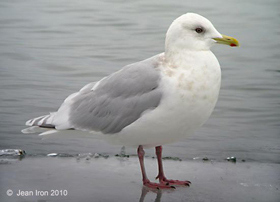 Adult winter Kumlien's Iceland Gull in Toronto in February. Photo: Jean Iron
Slaty‐backed Gull: There are eight provincial records of this Asian species: five at Niagara, in 1992, 2006, 2009, 2010 and 2011; an adult in Toronto in January 1999; a third winter bird at Wheatley Harbour and Hillman Marsh in January 2006; and a third winter bird at Woito, Renfrew County, in November 2007. All birds had the classic field marks including the "string of pearls" primary pattern. For details and photographs of Toronto's first Slaty‐backed Gull, see Yukich and Varella (2000) in Ontario Birds 18(2):73‐77. It is now almost an annual visitor to Ontario.
Glaucous Gull: This big white northerner occurs in southern Ontario from October to April. Best spots to see them are Ottawa, Toronto and the Niagara River. Any dump that attracts large numbers of gulls should have one or more Glaucous Gulls in late fall and winter. First year birds are easy to identify from Iceland Gulls by their pink, neatly black‐tipped bills. Kevin McLaughlin of Hamilton first pointed out in 1996 a difference between Glaucous Gulls in North America and Europe. European birds in adult winter plumage are much more heavily and extensively streaked with dusky on the head and neck than North American birds; our birds are very lightly streaked to almost immaculate. This difference is not described in the ornithological literature. Caution: Extremely small adult female Glaucous Gulls can be misidentified as nominate Iceland Gulls.
Great Black‐backed Gull: Largest gull in the world. Often wrongly called "Greater" Black‐backed Gull. Numbers of Great Black‐backed Gulls increased spectacularly until about 2007. In recent years the breeding colonies in eastern Lake Ontario were hit with botulism originating in the non‐native round goby fish causing a large die‐off of birds. The numbers wintering on the Great Lakes have dropped significantly. Found on Lake Simcoe and on the Ottawa River, but generally rare inland away from the Great Lakes. Less frequent on Lake Huron and rare on Lake Superior and James Bay. Most birds return in spring to breeding colonies in the Gulf of St. Lawrence. The first breeding record on the Great Lakes was in 1954 on Lake Huron. Nonbreeding birds summer in southern Ontario. Adult Great Black‐backed Gulls have dull yellow to gray eyes that often appear dark, especially at a distance, whereas adult Lesser Black‐backeds have bright yellow eyes, even at a distance. Great Black‐backed Gulls in North America have a much higher frequency of hybridization with Herring Gulls than in Europe.
Kelp Gull: Alan Wormington found and photographed Ontario's first record of Kelp Gull at Wheatley Harbour, Chatham-Kent, on 7-9 September 2012. In July 2013 while surveying Mohawk Island, Haldimand, in Lake Erie near Rock Point, Dave Moore and Denby Sadler found an adult in breeding plumage.
Hybrids: Hybrids are more common in gulls than in most other birds. The large white‐headed gulls hybridize much more often than the small dark‐headed gulls. The two most frequent gull hybrids in Ontario are Herring Gull x Great Black‐backed and Herring Gull x Glaucous (Nelson's Gull).
New Ontario Gulls: Many gulls are expanding their ranges because of new food supplies and perhaps dispersal related to climate change. The most likely new species and subspecies to occur in Ontario are: Yellow‐legged Gull, Mediterranean Gull, Kelp Gull and Glaucous‐winged Gull.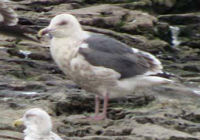 Third winter Slaty-backed Gull at Niagara Falls in December. Photo: Jean Iron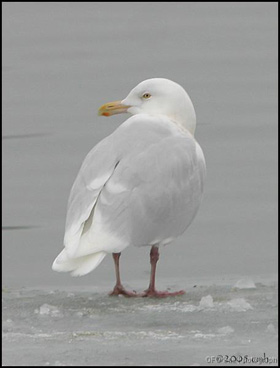 Adult winter Glaucous Gull. Photo: Carol Horner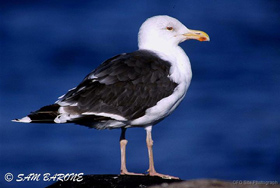 Adult Great Black-backed Gull. Photo: Sam Barone
GlossaryTop
Gonys: From the Greek gonios for angle and genys for jaw. This term is very misunderstood and often used incorrectly. The gonys is the ridge on the lower mandible from the tip to where the two sides of the jaw (rami) branch. The gonydeal angle or angle of the gonys is the point where the bill turns upwards near the tip. The gonydeal angle is pronounced in many large gulls.
Mantle: The mantle is the gray to black even coloration of the back, scapulars and upper wing coverts, suggesting a mantle covering the upper parts. Mantle shade or colour is one of the most important ID criteria in gulls. Some authors restrict the meaning of mantle to the small area of the upper back between the scapulars, but this is inadequate when applied to gulls. Caution: mantle shade varies with angle of view.
Mirrors: Also called subapical spots, mirrors are usually enclosed white spots near the tips of the primaries on gulls with dark wingtips.
Orbital Ring: The fleshy eyelids, often vividly coloured.
Plumage, Molt and Age: A good knowledge of this subject is essential to becoming an expert on gulls. Adult gulls have two plumages: definitive basic (adult winter) and definitive alternate (adult breeding). Juvenal plumage is held for a short period in most small (except Sabine's) and medium sized gulls before having a partial molt into first basic (first winter) plumage. However, many large Arctic gulls such as Glaucous, Iceland and Thayer's retain juvenal plumage through the fall or later before molting. By late spring many of these large first year gulls become very worn and sun faded, complicating identification. During summer and fall of their second calendar year, most gulls renew all their feathers in the second prebasic molt. By this molt, most small gulls acquire definitive basic (adult winter) plumage in their second year and are known as 2‐year gulls. These small gulls next acquire definitive summer (adult breeding) in spring of their third calendar year. These adult plumages are then repeated for life. Mew and Ring‐billed Gulls are 3‐year gulls, whereas Herring and most other large gulls are 4‐year gulls, acquiring their first definitive (adult) winter plumage in their fourth calendar year at about 3.5 years of age.
Age Classes in Gull Populations: In large gulls that take four years to attain definitive (adult) plumage, it is important to know that the two most common age classes in the population are adults and first year birds, followed by second year with third year birds being the least common age class.
Albino Gulls: Albinism and leucism are frequent in gulls. Albino Ring‐billed Gulls have been misidentified as Iceland and Ivory Gulls. Albino Herring Gulls have been identified as Iceland and Glaucous Gulls. Often albinos can be correctly identified by size, structure and associating species. Immature gulls in very worn plumage may also look very bleached.
Gull Calls: Many gulls can be identified to species by their calls: Learn the distinctive call notes of the Bonaparte's, Ring‐ billed and Great Black‐backed Gulls. The long call or trumpeting call given by both male and female is species‐specific in most gulls. This call consists of repeated notes given while the gull lowers and then raises its head with the bill pointed forward or upwards, depending on the species. Learn the long call postures and call notes of common species such as Ring‐billed and Herring Gulls. Long call postures are shown for most species in the Sibley (2000) guide.
Mystery Gulls: No matter how well you know gulls, you will see birds that fit no known species (probably hybrids or backcrosses) or others from the Herring/Yellow‐Iegged groups whose taxonomy is uncertain. Study mystery gulls closely, photograph them and keep detailed notes and sketches; some day you may be able to identify these mystery gulls as more information is gained.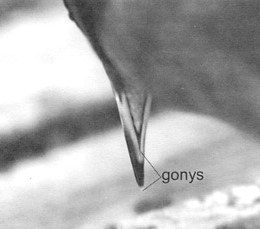 Gonys on Heermann's Gull. Photos: Jean Iron
Gull ReferencesTop
Peterson Reference Guide Series: Gulls of the Americas. Howell, S.N.G., and J.L. Dunn. 2007. Houghton Mifflin, New York. Excellent ID information and photos of every plumage and age class.
Gulls of North America, Europe and Asia. Olsen, K.M., and H. Larsson. 2003. Princeton University Press, New Jersey. An excellent resource, this outstanding guide covers all the gulls of the Northern Hemisphere. Packed with detailed information, illustrations and photos of all plumages and age classes. Should be in every gull watcher's library.
DVDs: Two DVDs, one on large gulls and another on small gulls with gull expert Jon Dunn are highly recommended. Phone 1-303-652-3678 or or visit the websites: large gulls and small gulls Visa and Mastercard are accepted.
Internet: There are excellent websites on gull identification and e‐mail discussions on ID Frontiers. Facebook has two new North American Gulls discussion groups: North American Gulls and The Lariphiles.
AcknowledgementsTop
We thank Sam Barone, Barry Cherriere, Willie D' Anna, Michel Gosselin, Janice Haines, Brandon Holden, Carol Horner, Tim Lenz, Peter Lorimer, Kevin McLaughlin, Winnie Poon, Marianne Reid, Ron Tozer and Kirk Zufelt for information and/or photos. Peter Lorimer's illustration of Niagara Falls was inspired by John Yrizarry's painting in John Bull's (1974) Birds of New York State.
Quiz AnswersTop
Left to right are: adult winter Little Gull in flight, two adult winter Ring‐billed Gulls on water, two distant adult winter Bonaparte's Gulls in flight against Falls, first winter Bonaparte's Gull, juvenile Sabine's Gull, first winter Franklin's Gull, adult winter Kumlien's Iceland Gull, adult winter Herring Gull and adult winter Great Black‐backed Gull on rocks, adult winter Glaucous Gull far right in flight.

Gulls in late fall at Niagara Falls. Drawing: Peter Lorimer